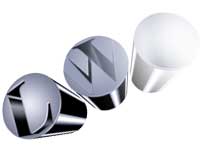 Leicher Web Design, LLC is more than capable of helping you either redesign your current logo or design an all new company logo. A professional company logo is a standard in the business world and it can get you noticed ahead of your competition. Our graphic designers have experience working with over 200 companies in the Akron/Cleveland area.

You, the client will own 100% copyrights to the final logo design. We, the company, however will have the right to display the logo in our online portfolio or any other marketing materials that we use or may use in the future.

LWD can prepare as many examples as you would like to see with your ideas. We are also very creative and can help you along with our own ideas. We will make any revisions neccessary to satisfy your logo needs. Turnaround time on logos is around 4 days and it will be illustrated in a format best used for printing. We can also help you with any printing needs: business cards, tri-fold designs, fliers, and postcards. Feel free to contact us with any questions you may have.
Previous Logo Works: